Energy used by non-residential buildings – that is, factories, facilities and offices – generates nearly half of the WAGA region's total greenhouse gas emissions. So it is clear that WAGA should address this source of emissions as a priority. This is also a recommendation of Low Carbon West.
One important tool open to local government to assist businesses to reduce their energy use is a finance mechanism known as Environmental Upgrade Finance or Environmental Upgrade Agreements (EUAs).
A number of WAGA councils are among the first in Victoria to offer EUAs to their businesses.
EUAs signed in the City of Melbourne have focused on upgrades of commercial office blocks. Evidence from EUAs deals signed in Victoria in 2016, outside the City of Melbourne, shows that there is also huge potential for this finance mechanism to assist with upgrading factories and facilities, particularly in the manufacturing, logistics and food sectors. So far, in the regions there have been significant energy efficiency upgrades but also installation of solar arrays, some well over 100KWs, and battery technology.
Early feedback from the participating councils also shows that the internal logistics and management of EUAs are not difficult, as the process aligns with councils' existing rates mechanism.
In 2013, WAGA and the Eastern Alliance for Greenhouse Action (EAGA) produced a report that demonstrates that EUAs could unlock $4.5 billion in direct capital investment and create more than 18,000 jobs across Victoria. In 2014, the analysis was extended to show potential emissions reductions and ongoing financial savings to Victorian businesses. Both the 2013 report and the 2014 addendum also give details on the breakdown of investment potential for each region and municipality in the state.
Download the following documents:
WAGA-Environmental-Upgrades-EUA-Finance-for-the-Regions-Report-2014-01-30.pptx (455 downloads)
WAGA-Environmental-Upgrades-EUA-Finance-for-the-Regions-Addendum-draft-2014-09-16.pdf (281 downloads)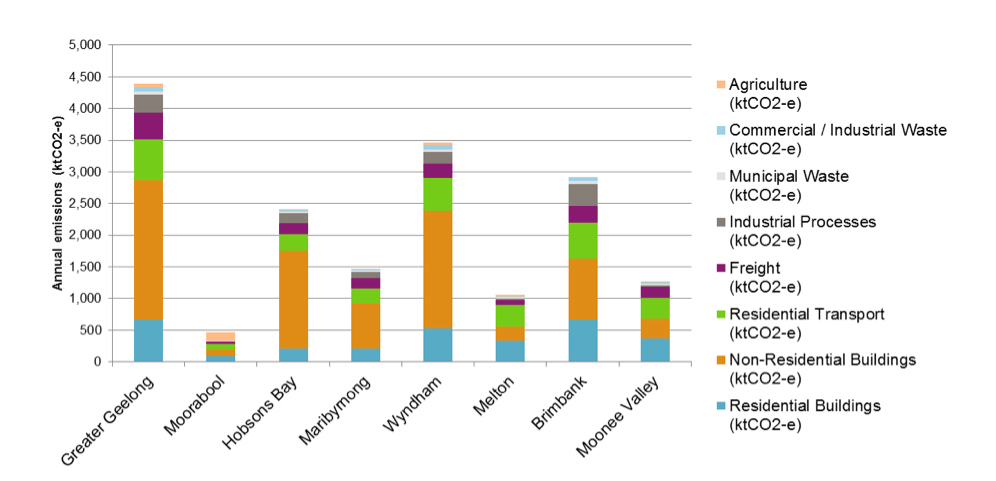 This table shows how and where greenhouse gas emissions were generated in the WAGA region in 2012. Non-residential buildings are responsible for 46% of the total.
(Source: AECOM and Arup, 3 April 2014, Emissions Baseline Memorandum, Low Carbon West)